Not even the Great 'Zoltar' could've predicted this one happenin'
** A Record Breaking** 21,000 VOTES received so far!
In the spirit of Katniss Everdeen, "May the odds (People's Choice category entrants), be forever in your favour!"
That said, to follow is the latest list (as at 02/07/2019), of your TOP 10 contenders (in order but no numbers attached just to keep y'all hangin' on the edge of your seat, blood pumpin', and good times a rollin').
July 7th, will see this list whittled down EVEN FURTHER to a TOP 5 leading into July 14th* (*Official closing date of The Hits 'People's Choice' category. Sunday, July 14th 9:00pm NZ time).
1. Mix Tape Brothers, Auckland
2. Eagle Ridge Estate, Tauranga
3. Shelley Rex – Celebrant, Tokoroa
4. Unufe Designs, Auckland
5. Mojo Band, Queenstown
6. Going Bananas, Auckland
7. White Chapel Jak, Auckland **NEW TO TOP 10**
8. LaValla Estate, Tuakau
9. The Event Girl, Tokoroa
10. DJ4You, Auckland
Please Note :: If you're in the 'People's Choice Category', your category sponsor "The Hits" have come to your aid as at yesterday (July 1st), with a Jaw-droppin' radio // web campaign welcoming every inhabitant of Aotearoa (…or at least Rotorua and Tauranga listeners, fan, followers, and randoms who accidentally tune in when the VOTE advert's playin' on the radio), to VOTE, VOTE, VOTE for you!!!!
Simply click HERE or on the image (below) to see what's being promoted by your generous category sponsor.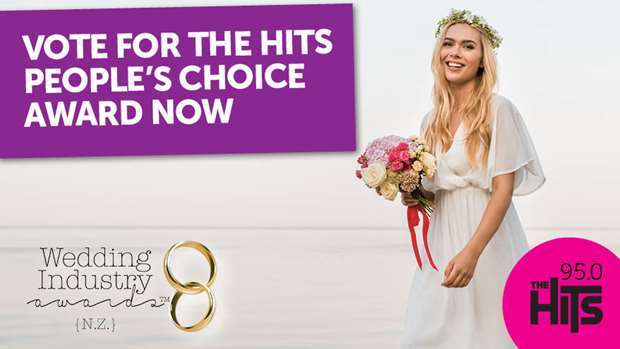 Remember – it's NOT OVER YET!
So, if you aren't in the TOP 10 today – fear not!
As luck might have it(or votes in this case)
you could very well be among the TOP 5
by the next update scheduled
SUNDAY, July 7th.
We whittle the list even further, revealing
WHO WILL BE
the TOP 5 fightin' for fame
as
The Hits
2019 Wedding Industry Awards (NZ)
"People's Choice" WINNER!
AND…,
…if that wasn't even to have you reachin for anti-anxiety medication…,
We'll post one final time on Sunday, July 14th by 12.00midnight NZ time
(at latest…cause we're old and we REALLY need our beauty sleep)

STAY TUNED