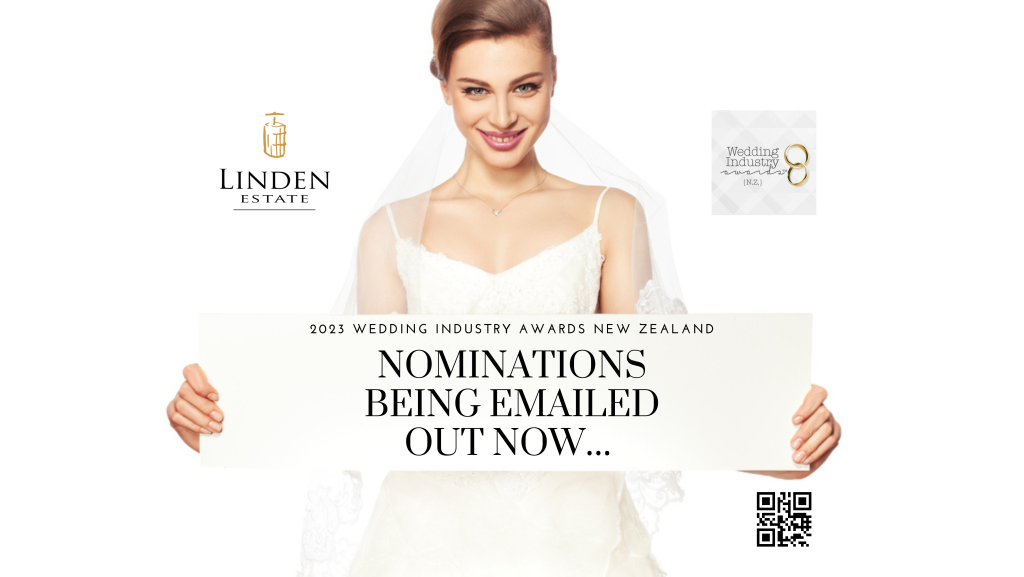 And so our journey continues in earnest! An unprecedented 950+ NOMINATIONS received this year!

"Our team at Wedding Industry Awards (NZ) HQ is beyond excited! To see such a rally of support from wedding clients throughout the Country support their wedding vendors is phenomenal. Given the Everest of nominations received, our small team is workin' tirelessly to have an email notification out to ALL nominee businesses by Friday, May 26th 2023.

Congratulations to you and your business if you've received a nomination this year.

Your next biggest decision is whether to enter. While your journey could start and end having received a nomination, we would strongly recommend you consider entering. As is the case with previous finalist and category winners – it could literally take your business to the next level!

Think about it for a second. A client, or industry peer, has taken time out of their otherwise busy lives to nominate you. They wouldn't do this if they didn't believe in you and what you do.

Their nomination recognises a craft you've honed, your passion and dedication, and your unwavering commitment to delivering an excellent product and/or service.

So, if they've gone as far to open this Door of opportunity for you, maybe it's time for you to walk through the Door and see what's on the other side.

I'd love you to consider entering this year. And, if you're among our finalists, I can assure you the gala awards night this August is going to be absolutely stellar!"
– Pete Duncan, Co-founder/Host, WIANZ.
KEY DATES TO REMEMBER* (*write these in your Calendar or diary):

ENTRIES CLOSE – MONDAY, June 19th 2023 9:00pm NZT* (*New Zealand Time).
FINALISTS ANNOUNCED – MONDAY, June 26th* 2023 9:00pm NZT. (*Finalists advised via email/Phone Sunday, June 25th 2023. Details of FINALISTS embargoed till public release  Mon, June 26th 2023).
JUDGING BEGINS – MONDAY, July 3rd 2023
**Love In Longevity** Category NOMINATIONS CLOSE – MONDAY, July 3rd 2023
**Love In Longevity** Category FINALISTS ANNOUNCED – MONDAY, July 17th 2023
JUDGING ENDS (all categories incl 'Love In Longevity') – MONDAY, July 24th 2023
WINNERS IN ALL CATEGORIES ANNOUNCED at the WIANZ Gala scheduled FRIDAY, August 18th 2023 – Linden Estate Winery, Eskdale, Hawkes Bay (NZ).
.
.
.
IMPORTANT NOTE: Category FINALISTS MUST BE PRESENT or have a "proxy" present at the awards gala. If ANY finalist who is announced a WINNER in their respective category is NOT present or doesn't have a "proxy" represented at the awards gala, they automatically forfeit their award without question.
.
.
For MORE info on the awards visit click HERE