"I'm a FINALIST. Now what?"
What is the next part of the awards process as a FINALIST?
Following the FINALISTS list announcement, the advisory panel works through a process of judging the finalist entries.
The entries are split across the panel. There are 7 quadrants/criteria the advisory panel looks at in each entry. If they require additional information [over and above what you've already provided in your application], then the Judges may contact one, or both, of the referees if you provided in your entry.
Once a WINNER in each category has been determined, the WINNER in each category will be announced at the upcoming Wedding Industry Awards (NZ) gala scheduled in Rotorua, Friday October 1st 2021
What if the awards gala is postponed due to Covid-19?
Currently, we are in level 3. Ideally, we need to be at level 1 to ensure you receive the most from your awards gala experience. If we do have to postpone any monies paid to secure seat(s) / Tables to the awards gala will be carried forward to the next scheduled date.
This will ensure when we have secured/released a new date, anyone who had already pre-paid will be automatically allocated a seat(s) or Table seamlessly.
Should I/we wait to secure our tickets at the last minute?
We wouldn't recommend leaving it to the last minute, as given the speed at which awards tickets sell, you may be wait-listed. Again, even if we do have to reschedule the awards gala date because of Covid-19, you'll be guaranteed a seat if you secure it sooner, rather than later.
What if, as a FINALIST, I am unable to make any new allocated date?
In the event a FINALIST is unable to be present at the awards gala, he/she is able to send a 'proxy' in their place to attend the awards gala. A 'proxy' is a person(s) who you nominate. He/she may be a member of your business, family, or friend, or industry peer.
IMPORTANT NOTE: Any finalist unable to attend the awards gala MUST advise the ORGANISERS a proxy will be attending. If a finalist wins in their category but is unable to attend, does not advise the ORGANISERS a proxy will be attending, and then does not send a proxy, the winning finalist risks forfeiting their award.
What if the awards gala is cancelled (versus postponed) due to Covid-19?
If we have to cancel the awards event [versus postponement], then we will advise next steps when we make an announcement to that effect.
Why not just run a 'virtual' awards event instead?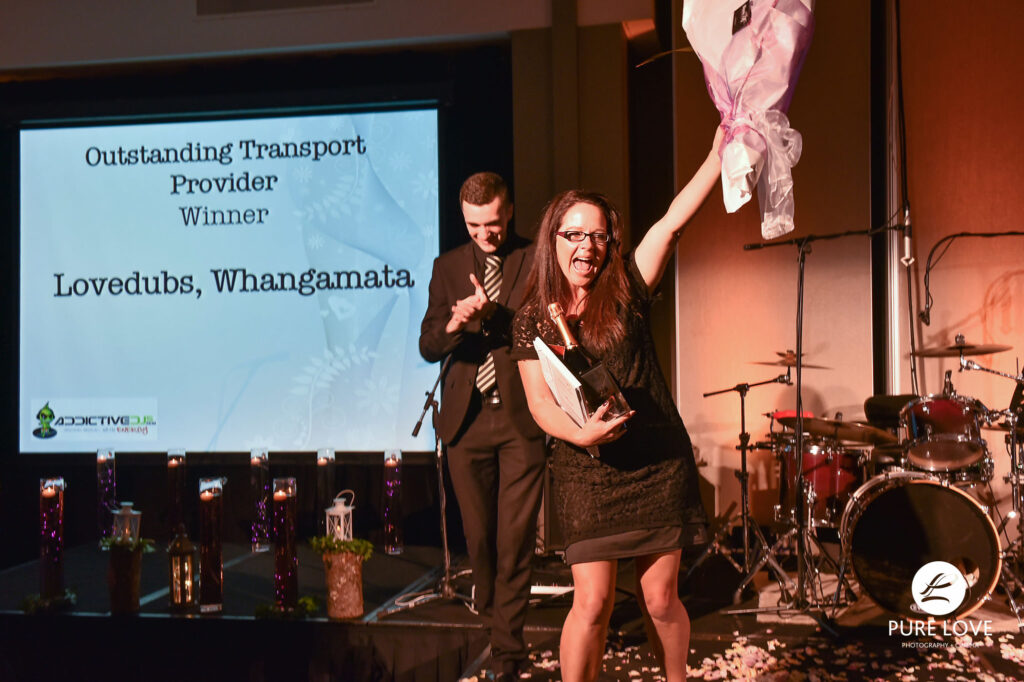 Wedding Industry Awards (NZ) was created with the purpose of celebrating and esteeming outstanding achievement in our industry. We wanted to create a 'tangible' event so our valued guests could network with industry peers, celebrate their achievements, and get the well-earned applause/award for a job well done.
There's nothing quite like stepping onto a Wedding Industry Awards stage. It's not just about receiving an award.

It's the acknowledgement of great work, and hearing the echoes of applause from your industry peers long after it's over. It reminds you all the longs hours, the sleepless nights, time away from family, and really hard work is totally worth it.
We don't see this happening in a 'virtual' format, so we're happy to postpone [if need be], and celebrate in person.
For MORE INFO on the awards click HERE.