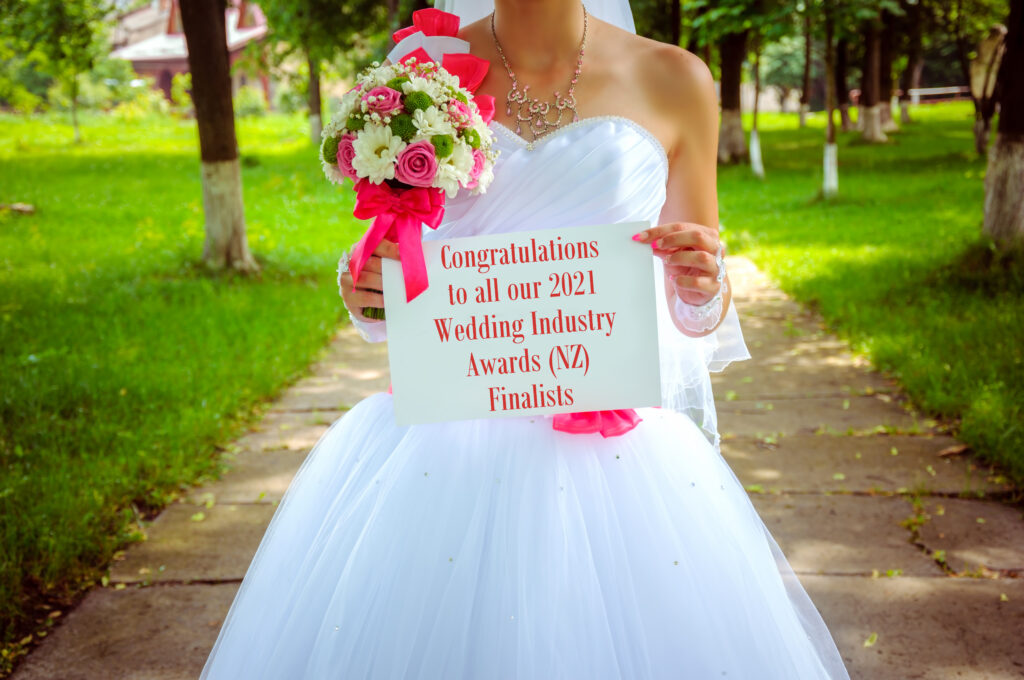 The *Official* 2021 List of Wedding Industry Awards (NZ) Finalists
"The Power of Us"
The last few weeks have been a crazy Rollercoaster ride as a nation as we contend with the ramifications of this newest variant of the Corona virus. One of the highlights amidst all the mayhem has been working through the Mountain of entries to this years with a view to narrowing down our finalists of the formidable submissions. Of our 23 categories, we had 3 categories each of which had over 10 entries in each. This make it an extremely difficult exercise to narrow the field given the excellent caliber of entries received.

As such, and given the unique situation Covid-19 presented us in 2020/21, we make the decision to allow a maximum of 6 entries* (*as opposed to our traditional 5 entry max per category).The theme we set back in 2019 for what was to have been our 2020 awards gala was, "The Power of Us". It seems even more apt now as we navigate the challenges

One final thought. Whether you and your business are among this years named finalists (or not), we congratulate you on investing your time and enthusiasm in entering. We still hope to have you join us at the awards gala as it's always a fantastic night of networking with industry peers, great food, and entertainment.

Ngā  mihi nui,

Pete.
WIANZ Director.


**2021 FINALISTS LIST**
Bridal Party Attire (MOH and Bridesmaids)
Stylequeen Bridal & Formal Wear
Baby Breath Bridesmaids
Bella Bridesmaids
Evolution (Mount Maunganui)
Cake Artist
A Love of Cakes – By Annette
Lucy Loves Cake
Caterer
Burtons on Pollen Lunch Bar & Catering
The Sustainable Food Co.
Pumice Food Group Ltd T/A Kerr & Ladbrook Catering
The Gourmet Picnic
Celebrant
Emma Helleur Celebrant & MC
Cam Wakefield – Wedding Celebrant & MC
Nichola Taylor – Marriage Celebrant
Emma* After – Marriage Celebrant (*Emma Ayling)
Kate Lovell – Wedding Celebrant
Erin Marmont – Marriage Celebrant
Ceremony Venue
Lochend Woolshed
Woodlands Estate
Hush Boutique Weddings
The Waterlily Gardens
Meadowood House
DJ
DJ4You
MIxmaster
Emerging Business
Lochend  Woolshed, Dunedin
The Sustainable Food Co, Orewa
Baby's Breath Bridesmaid, Auckland
Burtons on Pollen Lunch Bar & Catering, Thames
The Cocktail Cart, Hamilton
Meadowood House. Napier
Florist
Kats Floral Design
Dahlia Lane
Grooms Attire
Dorset Suits
Barkers
Hair Stylist
Sharne Alice in Wonderland
Voluptuous Devine
Belles and Brides
Yvana Sanders Bridal Hairstylist & Educator
Hire & Theming
The Event Girl, Tokoroa
Make Your Day Events
Get Set Event Hire, Taupo
Stellar Backdrops
Make Up Artist
Pink Lotus Artistry
Charlotte Wilson Beauty
Loren Russell Makeup Artistry
Micki @ Makeup Etc
Rouge Beauty NZ
Voluptuous Devine
Marquee Hire
Get Set Event Hire
Make Your Day Events
Andys Marquee and Event Hire
Mobile Bar
Mister Murdoch
Coromandel Caravan Bar
The Cute Caravan Company
The Cocktail Cart
Mobile Food Truck
Roam Food Caravan
Tag Burger
Unique Food Geeks
Photographer
Kirsty Joy Photography
Dear White Productions
Lush Photography (Jodi La Grouw)
Stylist & Theme Artist
The Event Girl
Make Your Day Events
Stellar Backdrops

Wedding Planner
Wedding Travel – Anita Gatley
Forever After Weddings & Events
The Event Girl
Woodlands Estate
Dahlia lane
Wedding Reception Venue
Lochend Woolshed
The Waterlily Gardens
LaValla Estate
Woodlands Estate
Aston Norwood Café and Function Centre
Valley d'Vine, Hawkes Bay
Unique Wedding Experience
Meadowood House
Something Blue
Hush Boutique Weddings
The Dream Maker
Copper and Cream
Videographer/Cinematography
Eureka Films Limited
Dear White Productions
V Visual
Wedding with Ni Wedding Videography
Shotover Wedding Films
Wedding Gown Provider
Bridal Gallery, Hamilton
The Bridal House
White Silk Bridal Couture
Love In Longevity
Mr & Mrs Allen and Gloria Robinson
Mr & Mrs Colin and Heather Margaret Alley