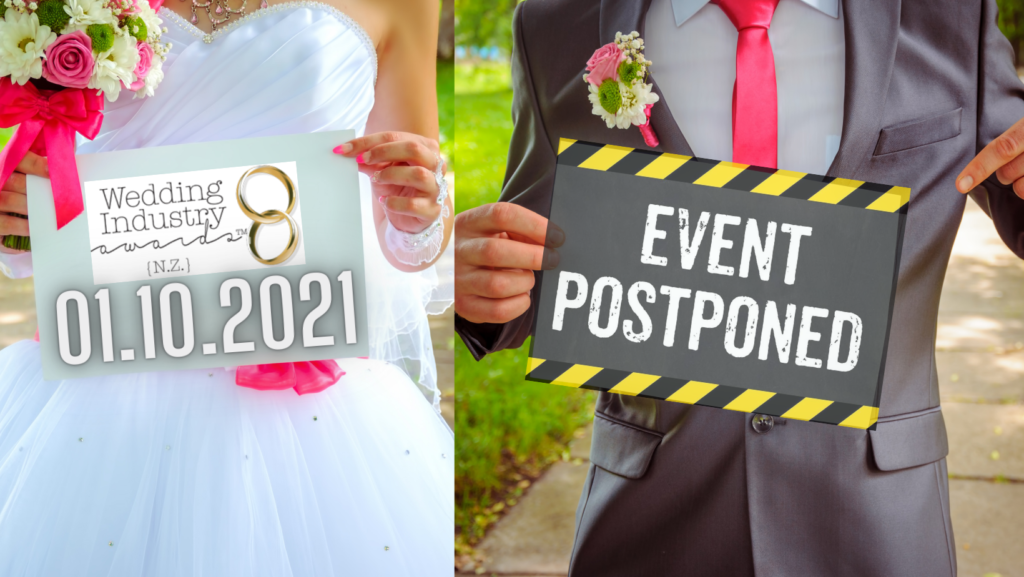 Todays announcement is not one we were hoping to give. However, given the continued variation in alert levels between Tāmaki Makaurau versus the rest of the country, it's impractical to think we'll arrive to level 1 by October 1st 2021. Amidst the challenges this second round of lockdown constraints, we'd ideally hoped we might be afforded a window of relief to celebrate you and your extraordinary businesses next month.

While it's back to the drawing board for us as we seek a new future date to safely deliver an awards gala, we will be back! We are presently awaiting new date options from our venue, and if those dates don't fit, we'll be pursuing an alternate option.

So, stay tuned. A new date [and possibly a new gala venue], will be rolling out soon. – Pete Duncan, Director, Wedding Industry Awards (NZ).
FAQ's
Q. Why are we postponing the October 1st 2021 event given there's still 2 weeks to go? 
A. Irrespective of there being 2 weeks remaining before the awards gala, Tāmaki Makaurau will still not be in alert level 1, even if the rest of the Country does.
One of the highlights for many of the Wedding Industry Awards (NZ) gala are our guests being able to engage with industry peers, enjoy group photo opportunities, celebrate over great Wine and Food, and ripping up the dance-floor after the formality of the awards are over.
Understandably, 2 metre social distancing, masking up, sanitising throughout the evening etc is not conducive to a great night out.
Q. Why not just do the awards 'virtually' instead?
A. In short, yes you could. But that's not our jam. We can absolutely appreciate any frustration you feel in the awards not going forward at this time. However, as organisers, we sincerely believe a physical event where you receive a well-earned accolade to the applause of your industry peers, and receiving a tangible award versus a token sticker on your website is well worth the wait.

Q. I'm currently a FINALIST. If the event isn't successful in securing a new date till early 2022, what happens to my FINALIST status?
A. Nothing changes. You're are still a 2021 FINALIST We would have announced a WINNER in each category on October 1st 2021, however, this is no longer possible given the Delta situation. Once we have secured a new date to host the awards, we will advise all finalists immediately. We appreciate some of our 2021 FIANLISTS may not be available due to commitments elsewhere on the new date. We will work with finalists on a case-by-case basis in this instance.

Q. I have purchased ticket(s) to the October 1st 2021 Awards Gala. Do I get my money refunded?
A. As mentioned in a previous communication, if a postponement occurs, any tickets purchased will be transferred across to the new date automatically. We have a record of all tickets purchased and who has purchased them. Our priority is establishing a new date to host the awards gala. Once a date is secured we will release the new date via our social media page HERE and the WIANZ website HERE

Q. I've booked accommodation and/or flights. Now what?
A. Once you've read this, contact any accommodation provider, and air carrier and cancel your booking/flight. We are advising you now of this postponement in the hope any of our valued inbound guests will be able to cancel flight/accommodation bookings without cancellation penalties. If you have booked your stay in Rotorua via our accommodation partners [Princes Gate or Pullman Hotel Rotorua], we will be advising them of the awards postponement today.
If you have questions outside the scope of what we've already addressed [above], then please feel free to email Pete Duncan HERE.
Nga mihi nui,
WIANZ (NZ) team.
s. fb.com/weddingindustryawards
w. weddingindustryawards.co.nz
m (0276) 277 963