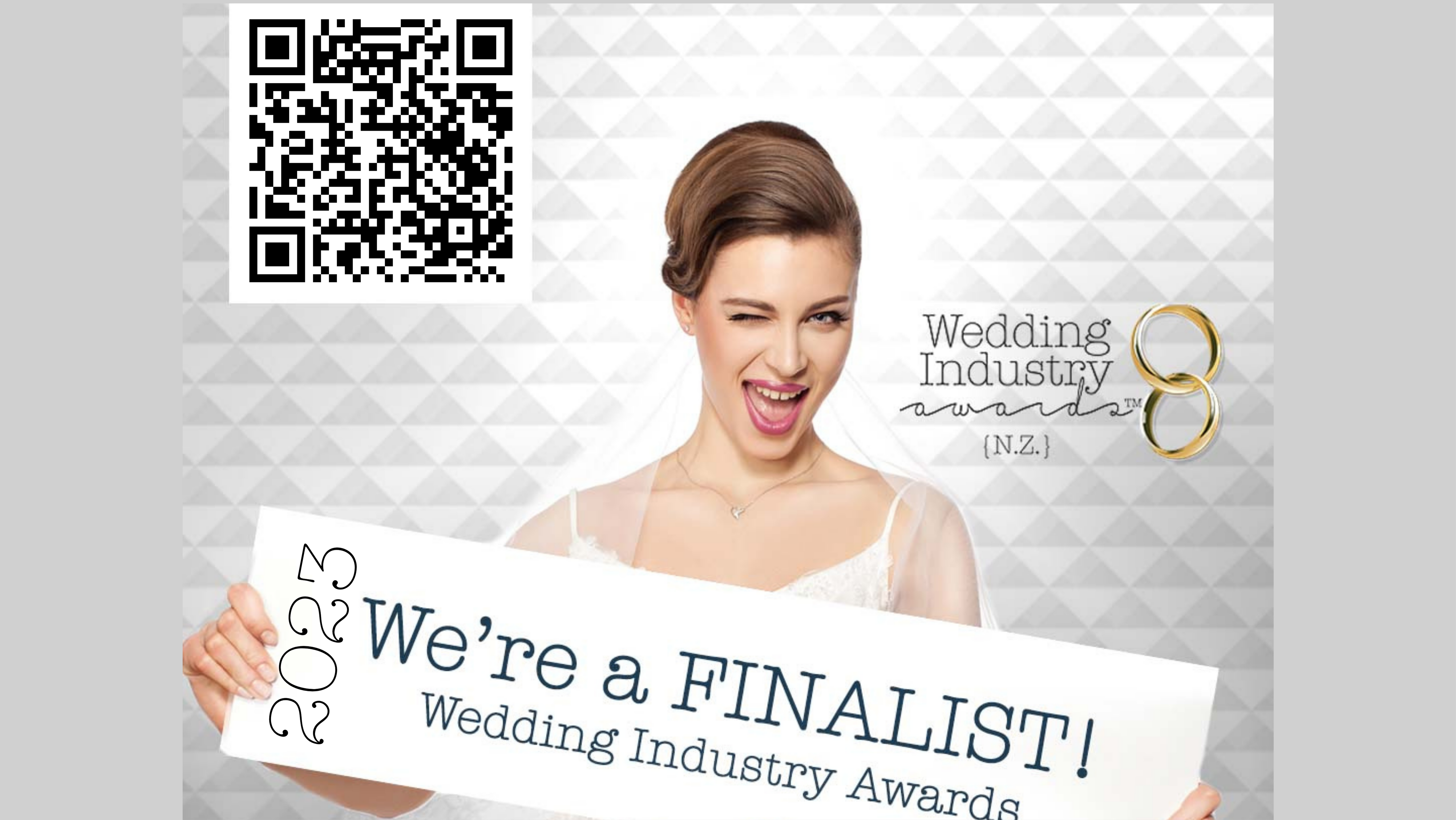 Congratulations to all of this years Finalists!
This year, WIANZ received a mini-Everest of nominations from all throughout the Aotearoa! 971 in fact.

It was a phenomenal response to to our invitation to everyone everywhere to give a "shout out" to the exquisitely talented Humans who 'bring the magic' to couples planning, or executing their most memorable day.

Warmest congratulations to everyone who received a well-earned nominations.

Kudos also to those nominees who saw a nomination as a launching pad from which to reach for the stars and enter this years awards!

Your Wedding Industry Awards (NZ) team look forward to welcoming you to the most glitzy, glamfest being prepared in your honour on August 18th in Esk Valley, Hawkes Bay.

– Pete Duncan, Co-founder and Chief Excitement Officer, WIANZ.
Venue – Wedding Ceremony
Woodlands Estate
Markovina Vineyard Estate
The Red Barn
Te Miro Woolshed
Lochend Woolshed
Hygge at Clifton Bay
Valley d'Vine Restaurant & Function Centre
Venue – Wedding Reception
Valley d'Vine Restaurant & Function Centre
Woodlands Estate
Red Barn
Te Miro Woolshed
Estuary Events
Hygge at Clifton Bay
Markovina Vineyard Estate
Celebrant* (*Celebrant only. Does not offer MC Services as part of offering).
Francieli McWilliams
Emma Ayling – Emma After
Hope Rogers – Forever After Weddings and Events
Emma Heuller
Over the Moon
Married by Kev
Master of Ceremonies
Love and liberty Celebrant Services
Married by Ashleigh
Entertainment Soloist
The Wedding Dulcimer
Jack Wallis
Lana Fia
Entertainment – Duo
Jasper and Jane Hawkins* (*Jasper & Jane)
2 Mile Bay
Entertainment DJ
Mixmaster DJs
DJ4U
Sounzgood DJ Entertainment
Limelight DJ & Entertainment
Pulse Entertainment
Band
Third Space Band
Tim Armstrong Band
Bang Bang, The Band
Emerging Photobooth
Tap N Snap
Entertainment Broker
Better Band
GIG HQ
Brides Attire
Bridal Gallery
Jopanni Bridal
Jessica Bridal
John Zimmerman Couture
RSVP Bridal Couture
Bridal Attire – Undercover
The Sleepover
Cinched
Tits Up
Brides Accessories – Jewellery

The Refinery
Cambridge Jewellers
Pascoes Jewellers
Grooms Attire
Theodore (Australia)
Bond & Co
Dorset Suits
Rembrandt
Marquee and Event Hire
Love Club Hire
The Boho Experience
Get Set Events
Eventrent
Raj Tent Club
Wedding Planner
Wedding She Wrote
The Red Barn
Freestyle Events (2020) Limited
Encore Events
Dahlia Lane Weddings and Events
Wedding Stationery
Inkberry Calligraphy
Poppyseed Design
Walls and Backdrops
Mad Dog backdrops
Stellar Backdrops
Wedding Signage
Refined Signs
Neon Design NZ Ltd
Zippy Laser Design
Lily Charlotte Crafts
Caterer
Unique Food Geeks
Bay Catering
Precinct Food & Catering
Valley D'Vine
Kerr & Ladbrook
Kudos Food Design
Caterer – Food Truck
Unique Food Geeks
Pipi Pizza Truck
Get Loaded
Mount Delice
Caterer  – Mobile Bar
Lola Caravan Bar
Charlie Grace
Mister Murdoch
Get Loaded
The Cocktail Cart
Caterer – Dessert Truck
Mount Delice
Mr Whippy (Taupo)
Mr Whippy (Waikato, SE)
Fika Artisan Dessert
Photography
Georgie Daniell Photography
Capturing Moments LTD
Captured by Tahlia
Photography by Sarah Finlay
Sari Renee Photography
Photoadventure.co.nz
Videographer/Cinema
V Visual
Wilderness Films
MBCINE
Mason Media
Moments Productions
Mangrooming* (*Specialty, Boutique, Bespoke Grooming services)
The Groomsmen
Mobile Hairstylist
Onsite Hair by Kimberley
Hairstylist
Pink Lotus Artistry
Dream Hair
Makeup Artist
Ruby Retro – Makeup Artistry & Vintage Hairstyling
Beauty on the Move
Belles and Brides
Dream Hair
Hair & Makeup
Razarbeauty* (*formerly Pink Lotus Artistry)
Ruby Retro – Makeup Artistry & Vintage Hairstyling
Beauty Enhancements
Vibrant Beauty
The Cosmetic Clinic (Rotorua)
Floral Artist
Fifi Boutique Bespoke
Kats Floral Design
Designer Flowers
Magdalen Hill
Devonport Flowers
Cake Artist
A Love of Cakes
Rubylicious Cake NZ
Sweet Retreat NZ
Sweet Deer Hand Painted Cakes
Queen of Sweets
Beverage Supplier
Wilson Your Wine Butler
Wine Divine Ltd
Hire and Theming
Freestyle Events Ltd
The BOHO Experience
Eventrent
Raj Tent Club
Get Set Event Hire
Specialist Stylist
Fifi Boutique Bespoke
Balloon Stylist
Hello my Darling Events
Unique Wedding Experience
The Groomsmen
Deer Valley
Glad & Grace
Mixmaster DJs
NZ Wedding Painter
Hot Property
Hello my Darling Events
NZ Wedding Painter
Emerging Business
Deer Valley
Fifi Boutique Bespoke
Glad & Grace
Mount Delice
Get Loaded
MBCINE
Cutting Edge 0-3months
Wilson Your Wine Butler
GIG HQ
Cutting Edge (12months +)
Mixmaster
Hello Stranger
Better Band
The Cosmetic Clinic (Rotorua)
Emerging Entrepreneur
The Groomsmen
NEON Design NZ Ltd
Hello Stranger
Grazey Chick
Mixmaster
The Cosmetic Clinic (Rotorua)